In January 2020, we conducted our annual warehouse costs and pricing survey. This year, our participation numbers continued to grow, and we would like to sincerely thank every warehouse who participated in this year-long survey.
Before we jump into the results, let's talk about some of the assumptions we made during the process of the survey. For starters, we didn't record which answers were associated with which warehouse. This allowed our vendors to remain confidential and gave them the ability to answer in-depth questions without fearing accidentally providing critical information about their competitive practices.
We also excluded any survey answers that were too far outside of the bell curve. For example, if a warehouse indicated that they paid $100 per-square-foot for warehouse space, we would exclude that answer if the bell curve average was $20 per-square-foot. In these cases, we assumed that exceedingly high or low answers to survey questions were due to misunderstandings — not massive price fluctuations. That being said, we still included abnormal figures, as long as those abnormal figures didn't make a significant change to the bell curve alone.
Third, we didn't segregate any of the results by geography. The primary reason for this was to simplify the overall architecture of the survey results. However, we do fully acknowledge that removing geography from the equation can skew the results of the survey — since we have vendors operating in the United States, Canada, and across Europe.
Fourth, we computed the averages to questions with multiple-format answers to provide simplification. So, if we asked warehouse owners what they pay their management, we may receive answers that include both salary and hourly wages. Instead of supplying both forms and increasing the complexity (and digestibility) of the answers, we simply calculated hourly into salary and presented salary as the only answer.
Finally, if there were any responses that warranted some further explanation, we elaborate on those responses below. This allows readers of the results to better understand the context and circumstances surrounding the response.
Summary of 2020 Survey Results
Overall, the growth in e-commerce fulfillment, the complexity of same-day returns, and rising warehouse market costs resulted in warehousing costs rising this year. For the first time, we also measured add-on services (e.g., inbound calls, kitting, shopping cart integration, etc.) — which are being utilized by many warehouses to help offset the growing costs of fulfillment. This year's survey showed an increase in costs across the entire warehouse ecosystem (e.g., leasing costs, employee rates, salaries, etc.), yet the total profitability of warehouses rose significantly. After last year's decline, warehouses have found their momentum and are gaining significant profit growth — partially fueled by increased customer fees and technology integration.
You can view some of the high level summary results on our infographic:
Performance Data
For questions relating to performance data, our primary objective was to discover how many fulfillment providers leverage performance data to measure and improve their quality-of-work. We asked fulfillment providers the following questions:
If you own multiple warehouses, do you charge the same for each location?
What percentage of customers do you retain each year?
Do you measure performance?
What is your picking accuracy?
What is your inventory shrinkage rate?
We found that 53% of respondents with multiple warehouses have a unique pricing structure for each location, while 47% operate on identical charging structures between all locations. As we continue the trend of year-over-year tech adoption, we saw a rise in the number of fulfillment providers who measure performance (93% vs. last year's 82.9%).
The overall picking accuracy has also jumped from 99.19% to 99.31% — likely as a result of wider performance measurement adoption. Surprisingly, inventory shrinkage rates jumped from 1.26% last year to 2.84% this year, possibly indicating frictions in performance measurement adoptions. Finally, customer retention rates dropped this year. In 2018, we saw fulfillment providers keeping 99.52% of their customers. This year, that number has dropped to 94.5%. This is likely due to an increase in competition fueled by fulfillment demand.
Agreement Terms
We often get questions surrounding the standard terms of agreement that fulfillment centers utilize from companies and warehouses looking to outsource their fulfillment needs. To help shed light on these questions, we asked participants:
What terms do you offer on your agreements (e.g., month-to-month, annually, multi-year, no-term, etc.)?
Do you increase your pricing on a regular basis?
If you do increase your pricing, what percentage do you increase pricing?
In our survey, we found that 55% of fulfillment providers offer month-to-month agreements, 54% offer annual agreements, 45% offer multi-year agreements, 16% offer no term agreements, and 46% offer multiple types of agreements depending upon needs. Overall, we saw a 21% increase in multi-year agreements and a whopping 33% increase in no term agreements. There was also a slight decrease in both month-to-month agreements (1.8%) and annual agreements (12%).
The number of warehouses that increase pricing on a regular basis also jumped to 69%. That's a 5% increase from 2018 and a 27% increase from 2017. For those that increase pricing, they do so by an average of 3.3%. Again, that's a slight decrease from last year's 3.7%. 92% of warehouses who increase pricing do so annually, while 8% do it every 2 (or more) years.
Warehousing Costs
Warehouses looking to remain competitive need to understand how much other warehouses are paying to operate and maintain their warehouses. Here are some questions we asked:
Yearly cost per square foot of your warehouse space?
Starting hourly rate of your warehouse staff?
Annual pay for a warehouse management employee?
Corporate profit?
The average yearly cost per square foot of warehouses was $7.81, increasing $0.03 from last year. Additionally, the average starting hourly rate of basic warehouse staff was $13.47. For warehouse managers, the average salary was $52,765 (or $25.37 per hour). Last year's results stood at $13.32 and $50,524, respectively. Corporate profit rose on average from 7.25% to 9.77%, largely as a result of the the increases in pricing, which are detailed below.
Pricing and Discounts
In addition to fundamental questions about warehouse pricing, we polled warehouses to get deeper insights into their pricing structures, discounts, and additional services. These questions will help warehouses, businesses, and fulfillment providers better understand some of the pricing complexities in the market — including the average fulfillment pricing, costs, and fees.
For Order Fulfillment Pricing, We Asked:
What is your average pick and pack price for a single item direct to consumer order?
What is your average pick and pack price for a business to business order?
Do you offer discounted pick and pack rates?
How much do you charge for cartons, inserts, and promotional materials?
If you do offer discounted pick and pack rates, what is the break with which you provide the discount and how much of a discount do you offer?
How much do you charge for Amazon FBA orders?
How much do you charge for subscription box orders?
The average B2C pick and pack fee for single item orders was $2.96 (up from $2.86 a year ago) while the average B2B pick and pack fee for single item orders was $4.27 (up from $4.17 a year ago). This year, 69% of warehouses offered discounted pick and pack rates for high-volume shippers, which is down 6% from last year. Discounts range from 2 – 10% (with an average of 6.8%), and the average break is at 2,400, with a range of 500 to 20,000.
This year, we also asked warehouses about how they handle Amazon FBA orders. The vast majority of warehouses do not discount for Amazon, and their pricing structure is generally the same (plus $0.2 – $0.5 per SKU label and $.50 per carton label). We also asked about subscription boxes. Usually, the price is the same for subscription boxes, but some warehouses do a mass kitting project at a better rate before charging pick and pack for single item orders.
When it came to cartons, warehouses we surveyed applied cost plus a 10 – 15% add-on fee (overall average was a cost plus 14.5%). A whopping 77% of all warehouses The average cost for materials  was $0.99 on average with a  range of $.25 – $1.50. When it comes to adding inserts or other promotional materials, 17% of warehouses didn't charge any additional fees, while the majority of warehouses charged an average of $0.17. The methodology behind inserts ranged drastically from warehouse-to-warehouse, with many offering free initial inserts with charges for each additional insert.
For Storage Pricing, We Asked:
How do you charge your customers for storage?
What is your average price for storage?
Do you offer discounted storage fees?
If you offer discounted storage fees, at what breaks do you offer discounts and what discount is offered?
By far, the most common was of charging for storage was via pallet storage (95% — which is a 5% increase from last year). This was followed by cubic foot (31%), square foot (27%), per bin (25%), and other (4%). 53% of surveyed warehouses used multiple storage charging methods.
The price for each storage method (besides per bin) also increased this year. Pallet storage is up to $14.58 (up from $13.20 last year) per pallet. Per bin storage is up to $3.3 (up from $2.85 last year) per bin. Square foot storage is up to $0.77 (up from $0.66 last year) per square foot, and cubic foot storage remained unchanged at $0.495. We also asked warehouses what they charge for climate-controlled storage, with the average premium at 173% over the base storage fee (anywhere from $16 – $23 per pallet).
The number of warehouses offering storage discounts is up to 62% this year, a remarkable 29% increase from last year. This discount was applied at an average of 420 pallets, with the majority of warehouses offering the discount at breaks of 100 to 500 pallets. The average discount range was 2 – 15%, and the average discount was 7%. Some provide discounts for double stacking pallets, and some discount storage if order volumes increase.
We Surveyed the Warehouses About Their Shipping Pricing and Discounts. Questions Included: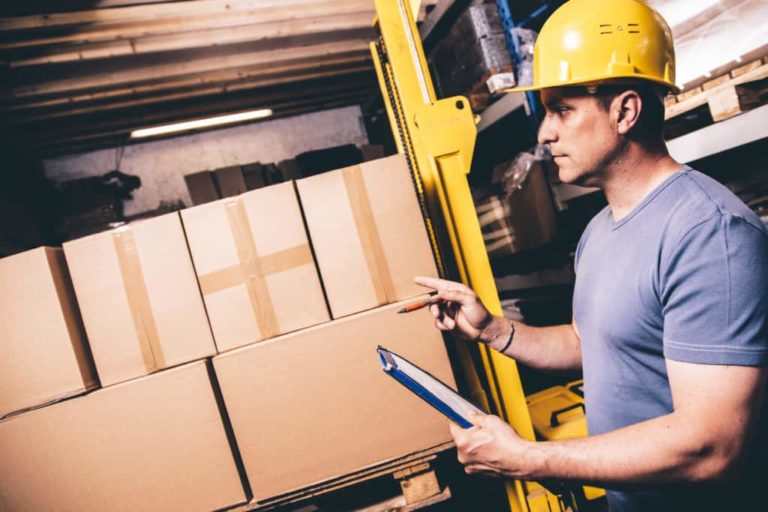 How do you charge for shipping?
If you offer shipping discounts? If so, what discount do you give for ground, express, international, and LTL shipping?
Do you let customers use their own freight accounts?
Do you have Commercial Plus Pricing with the USPS?
With regards to shipping and pricing, we found that warehouses offer a variety of approaches (and 23% offer more than one approach).  32% of warehouses offer discounts off of the published rates, 45% offer cost-plus, 7% offer no discounts, 36% allow customers to use their own rates, and 9% exist in the "other" category.
For warehouses that do use shipping discounts, the average ground shipping service discount was 13% off published rates (with 12.5% markup over cost). For express shipping services, the average discount was 20% (with 12% markup over cost). For international shipping services, the average discount was 11% (with 12% markup over cost). For LTL shipping services, the average discount was 57% (with 15% markup over cost).
We also asked warehouses whether they allowed customers to use their own freight account. A massive 91% of warehouses allow customers to use their own accounts, while 9% do not. For those that allow customer freight accounts, the majority don't charge additional shipping processing fees (68%), but the average charge for those who do is $1.59 (range of $0.5 to $2 on average). Also, we found that the majority (64%) of warehouses have Commercial Plus Pricing with USPS.
Set Up, Account Management, Receiving, and Returns Fees
Like in our 2018/2019 survey, we asked questions about some of the other ancillary fees fulfillment companies charge. In addition, we asked about some new services such as shopping cart integrations, kitting services for subscription boxes, and call center services. As these additional profit streams continue to grow, we'll continue to add new questions to our surveys in the future to ensure that fulfillment centers, warehouses, and businesses understand the global optics of fulfillment profits.
We asked questions like:
Do you charge a routine account management fee, and if so, how much and how frequently?
If you charge a set up fee for a new client, how much do you charge on average?
How much do you charge for call center services?
Do you charge receiving fees, and if so, how much?
Do you charge returns fees, and if so, how much?
How much do you charge for kitting services?
How much do you charge for shopping cart integrations?
The majority (56%) charge for setup fees. The fees vary from client-to-client, but the average was $520 (with a wide range of 0 to $5,000). This is up from last year's $336 average setup fee. This year, we also asked about online shopping cart integration. The average charge for a one-time shopping cart integration was $156 (or a $75 average monthly fee).
Conclusion
This year, only a small majority (51%) of companies are charging routine account management fees (down 9% from last year). For those that do charge return fees, the average was $130. A whopping 91% of all fulfillment respondents charge for returns, which is a 7% increase over last year. The average return charge was $4.05, and 11% charged the same amount as their regular pick and pack fee. The majority of warehouses (84%) charged receiving fees, though this is down 11% from last year. The average receiving fee charge varied by type. The average hourly charge was $35.30. The average charge for a 20-foot container was $330. The average charge for a 40-foot container was $465. The receiving fee was charged at $6.3 per SKU on average (range of $2.5 to $10), and the average charge for cartons was $1.50 (range of $0.5 to $5). In addition, the average per pallet charge was $7.65 with a range of $4 – $12.
This year, we dove deeper into some of the additional revenue streams like kitting and inbound call services. The average cost for kitting was $35.75 per hour ($0.20 per unit for simple projects). For inbound call services, the average was $1.05 per minute with a range of $0.75 to $1.25.
To view the results of the previous surveys from the last couple of years, please see below:
2018-2019:
Warehousing and Fulfillment Fees Rise According to Latest insightQuote Survey
2017:
Warehousing and Fulfillment 2017 Warehouse Costs and Pricing Survey