Each year, insightQuote conducts a warehousing cost and pricing survey, and we now have our results in from our survey concluded for 2021. Some incredible insights came out of this venture that we would like to share with the world. Before we get to that, we need to be clear about some of the assumptions that this survey makes so that people will understand how we tabulated the results that we received and what they mean in context.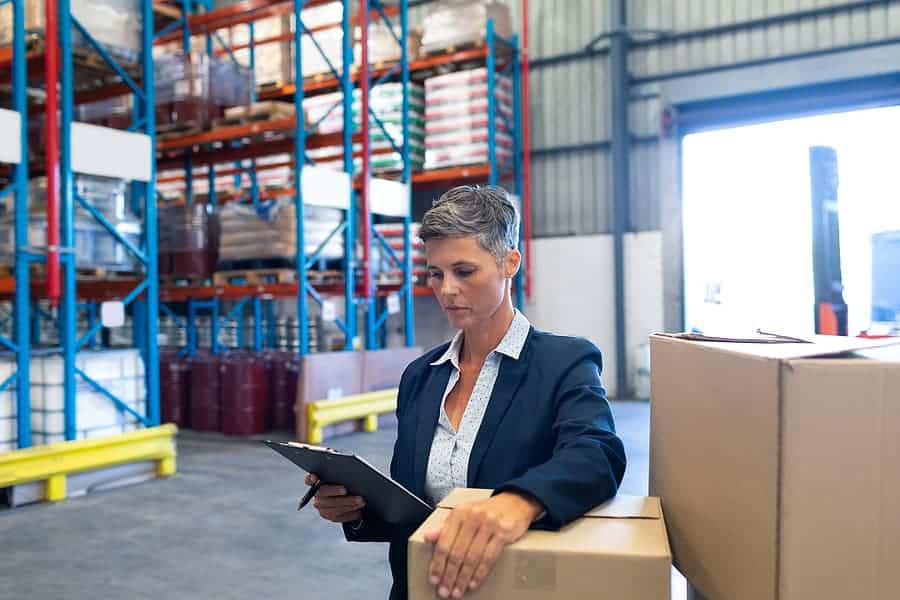 Our Methodology for the 2021 Survey
The data that we collected was not connected back to the specific warehouse that answered the question. In other words, the answers were anonymous so that all participants felt that they could give their most truthful and honest answers. We were also careful to note any extreme answers that were far outside the bounds of the averages. This helps weed out the wildly high or low answers from the survey that might otherwise skew the data. Our goal in doing this was to try to find the most accurate averages in order to provide useful data to our readers.
There was no attempt made on our part to separate out the data based on geographic location for these summary results. Obviously, labor costs and warehouse lease rates will differ based upon location. However, we wanted to find the natural averages as they presented themselves through different areas, and thus we left in all data and did not attempt to segregate it based on geographic region.
Finally, we attempted to standardize answers as best as possible across the different questions. This means that if a survey taker gave more than one answer to a question, we attempted to figure out which answer fit in best with the standard answers given across the board for other questions.
Summary of the 2021 Results
We are so exciting to share some of the results that we obtained from our survey and would like to break it down into a few parts to make it more digestible and useful to everyone. The areas covered include:
Performance Metrics of Warehouses
Agreement Terms of Warehouses
Warehousing Costs for the 3PL Warehouse
Pricing And Discounts to Customers
Each of these pieces is important to the overall operation of a warehouse, and this is why it was so important to look at these criteria individually and see how various warehouse operators or owners were doing with their operations.
The last few years have seen consistent growth in the Fulfillment Industry, as more and more retailers move to online sales channels and away from traditional brick-and-mortar operations. But the Coronavirus pandemic seems to have accelerated the growth in online and e-commerce sales, in what seems to be additional movement in consumer behavior. As consumers transition to even more online ordering, the fulfillment industry has been the beneficiary of growth, providing businesses with the means to store and ship online orders.
This shift over the last year, as a result of Covid-19, has put fulfillment and warehouse operators in the driver's seat in terms of commanding higher prices for their services, which is reflected in our survey results. But the growth of the industry is also continuing to put pressure on warehouse operators' cost structures – particularly labor rates and warehouse lease costs. As warehousing and fulfillment providers expand and utilize more warehouse space, leasing costs are rising due to limited supply. Furthermore, finding and keeping full-time staff is increasingly difficult, putting an upward pressure on overall warehouse wages.
Below is a summary of the results of our 2021 survey, followed by a compete breakdown of all of the results.
Performance Metrics of Warehouses
How many warehouse owners/operators are actively measuring the performance of their warehouse? This and other performance related metrics were surveyed in our annual poll. Below are the specific questions we posed related to performance metrics:
If you own multiple warehouses, do you charge the same for each location?
What percentage of customers do you retain each year?
Do you measure performance?
What is your picking accuracy?
What is your inventory shrinkage rate?
Our survey showed that a very high percentage are actively measuring various metrics. Eighty-six percent of those surveyed answered in the affirmative when asked if they were measuring performance. We also found that order picking accuracy came in at 99.21% and inventory shrinkage measured at 1.85%. The order picking accuracy number is both high and not entirely surprising. Warehouses must maintain these incredibly high levels of accuracy if they are to remain competitive in the current landscape.
These accuracy figures and other high efficiency standards have made it possible for warehouses to retain 95.67% of their customers year-over-year on average according to our surveys. Lastly, 46% of companies surveyed that had multiple locations indicated that they charged the same rates to clients across all locations, whereas 54% of multiple-location warehousing companies varied their rate structures depending upon the location.
Agreement Terms of Warehouses
Agreements are an important part of outsourced warehousing – they dictate the terms and arrangements between the warehousing company and the user of the outsourced service. Fulfillment centers use varying strategies related to agreement terms, including the time horizon of the agreement, the amount and timing of price increases, and even who covers errors and inventory losses. Below are the questions that we asked in our annual survey related to agreement terms:
What terms do you offer on your agreements (e.g., month-to-month, annually, multi-year, no-term, etc.)?
Do you increase your pricing on a regular basis?
If you do increase your pricing, what percentage do you increase pricing?
This year, our warehouses indicated that the annual agreement was the most popular. 57% of respondents indicated that they offer annual terms. This was followed by multi-year terms at 48%, and month-to-month terms at 46%. Only 9% indicated that they offer no term as an option, which was a significant drop from the previous survey (16%). This goes to show that there are still plenty of different ways to do business in this industry.
The percentage of warehouses that increase pricing dropped to 61% this year (down from 69% last year). Furthermore, the average yearly increase jumped to 5.59% per year (up from 3.3% last year). The jump represented a 70% increase.
Warehousing Costs for 3PL Warehouses
Warehousing costs are on the rise, with demand for warehouse space and warehouse labor continuing to increase. On the other hand, due to the popularity of outsourced fulfillment services, corporate profits rose from last year. The following are the questions we asked our warehouses in our survey related to their internal cost structures:
What is your yearly cost per square foot of your warehouse space?
What is your starting hourly rate of your warehouse staff?
What is your annual pay for a warehouse management employee?
What is your corporate profit?
The average wage for a standard warehouse employee in our survey was about $14 per hour. Yearly management salaries came in at an average of $55,854.92 in our survey. Both of these were increases from our 2020 survey ($13.47 per hour for warehouse staff and $52,675 for warehouse management).
Despite these impressive wage offerings, the warehouses have been able to maintain steady profits. The average respondent stated that they had an 11% corporate profit percentage in the last year (a whopping 12% increase over last year's average of 9.77%). Some are doing better than that number, and this is all true while offering consistently impressive wages to the rank and file and to management.
Pricing And Discounts to Customers
Some of the most fascinating and most useful data to come from our survey had to be in the realm of the warehousing and fulfillment pricing and discounts offered to customers. These are the rates that fulfillment centers offer customers.
For Order Fulfillment Pricing, We Asked:
What is your average pick and pack price for a single item direct to consumer order?
What is your average pick and pack price for a business to business order?
Do you offer discounted pick and pack rates?
How much do you charge for cartons, inserts, and promotional materials?
If you do offer discounted pick and pack rates, what is the break with which you provide the discount and how much of a discount do you offer?
How much do you charge for Amazon FBA orders?
How much do you charge for subscription box orders?
The average B2C pick and pack fee for single item orders was $3.13 (up from $2.96 a year ago) while the average B2B pick and pack fee for single item orders was $4.27 (unchanged from a year ago). This year, 72% of warehouses offered discounted pick and pack rates for high-volume shippers, which is up only slightly from last year. Discounts required monthly order volume ranges from 500-10,000, with an average of 2,500 order per month. The average discount was 6.94% and ranged from 2-10%, depending upon the specific warehouse.
Amazon has only continued to grow, and support of FBA and FBM orders is being offered by more and more fulfillment houses. 40% of the warehouses in our survey charged the same pricing for Amazon orders. For those that didn't charge the same, the main difference was that some warehouses charged label fees of an average of $.35 per label for Amazon compliance, additional fees for compliance of $1-5 per order and per pallet fees of up to $15 per pallet. We also asked about subscription boxes. 88% charge the same as for normal orders. Those that charged something differently used labor time studies for the most part to determine bulk order processing synergies and any applicable rates.
The warehouses we surveyed continued the trend of last year and applied, on average, a cost plus a 10 – 15% add-on fee for cartons. Only 38% of fulfillment warehouses surveyed roll the carton fees into their pick and pack charges – the remaining 62% charge a separate carton fee per order. Average cost per carton was $1.17 and ranged from $.1-$.5 per carton to $1-2 depending upon the size of the carton. When it comes to adding inserts or other promotional materials, 18% of warehouses didn't charge any additional fees (up slightly from 17% last year), while the majority of warehouses charged an average of $0.15 per insert (unchanged from last year).
For Storage Pricing, We Asked:
How do you charge your customers for storage?
What is your average price for storage?
How much do you charge for climate controlled, cold storage, or frozen storage?
Do you offer discounted storage fees?
If you offer discounted storage fees, at what breaks do you offer discounts and what discount is offered?
Not surprisingly, storage fees per 'pallet' was the most common way to charge customers for warehousing space, just as it was during last year's survey. A full 93% of respondents charge per pallet (95% in 2020). This was followed by 30% who charge per bin, 27% who charge per cubic foot, 15% who charge per square foot, and 5% that offer other warehousing storage charge methodologies.
Both per pallet storage fees and per bin storage fees increased year-over-year in our survey. In 2021, respondents indicated that they charged an average of $14.79 per pallet (up from $14.58 per pallet), and $4.07 per bin (up from $3.30 per bin).  Both square footage and cubic footage pricing remained flat at $.75 per square foot, and $.45 per cubic foot. Some warehouses indicated that they are beginning to use storage fees per shelf to accommodate their customer's needs. The average fee per shelf in 2021 was $5.11. As is usually the case, climate-controlled or cold storage fees are higher, and came in at $17.99 per pallet on average for those who did offer it. It was an average of $0.64 per cubic foot for climate controls.
Warehouses seemed to pull back a bit on their warehouse discounts offered to clients. Almost exactly half (49%) of respondents said that they offered discounted storage rates for customers who had over a certain number of pallets to put into long-term storage, which was down significantly from 62% in 2020. The most common discount was a pallet discount and it was offered out at between 50-100 pallets, on average. The average discount was between 5-10% and as little as 2.5% discount. You can see from these numbers that not every warehouse agrees on how or if to offer discounts to certain customers.
For Shipping Pricing and Discounts, We Asked:
How do you charge for shipping?
If you offer shipping discounts? If so, what discount do you give for ground, express, international, and LTL shipping?
Do you let customers use their own freight accounts?
Do you have Commercial Plus Pricing with the USPS?
Warehouses continue to use a variety of ways to charge for shipping services. 37% of our survey respondents indicated that they offer a discount off of published rates, and 64% offer a cost plus model – by far the most popular method. Surprisingly, 39% allow customers to use their own rates. This is a bit of a shock, considering that many warehouses earn a margin on freight that helps pays the bills – and when customers use their own rate structures that is lost revenue. However, some warehouses may be opting for less headaches managing the freight billing process, which usually happens more frequently due to the carriers requiring payment more quickly. Only 9% of warehouses in our survey offered no discount, which was up slightly from 7% last year. Lastly, 7% indicated that they offer another structure altogether.
For warehouses that do use shipping discounts, the average ground shipping service discount was 19.28% off published rates (with 15.5% markup over cost). For express shipping services, the average discount was 25.06% (with 15.62% markup over cost). For international shipping services, the average discount was 24.18% (with 16.25% markup over cost). For LTL shipping services, the average discount was 56.40% (with 15.62% markup over cost). These discounts offer warehousing customers a tangible cost savings by outsourcing in most cases.
We also asked warehouses whether they allowed customers to use their own freight account. Only 75% of warehouses surveyed allow customers to use their own accounts, down from 91% last year. For those that allow customer freight accounts, the average fee was an additional $1.54 for those that did charge additional, and it ranged from $.50 to $5.00 additional per order, or $10-$25 per pallet for LTL shipments. Also, we found that the majority (71%) of warehouses have Commercial Plus Pricing with USPS, which helps outsourced warehousing customers achieve better USPS rates.
For Set Up, Account Management, Receiving, and Returns Fees, We Asked:
While these ancillary fees won't make up a large part of an outsourced fulfillment services monthly invoice, they are important to note. The following were the questions we asked related to set up fees, account management fees, receiving fees, and returns fees:
Do you charge a routine account management fee, and if so, how much and how frequently?
If you charge a set up fee for a new client, how much do you charge on average?
How much do you charge for call center services?
Do you charge receiving fees, and if so, how much?
Do you charge returns fees, and if so, how much?
How much do you charge for kitting services?
How much do you charge for shopping cart integrations?
A slight majority of all respondents answered that they do, in fact, charge set up fees (53%). Of those that charged setup fees, the average price was $548.52 and responses ranged from $120 to $1500, depending upon the complexity. A large part of the setup fee is apportioned for integrating with any shopping carts or other online systems with clients. Of the nearly $550 average set up fee, a full $447.14, on average, was devoted to shopping cart of online system integration. Exactly half of our survey respondents charge a routine account management fee, for customer service related to managing the account. The average monthly rate was $160.10, and the ranges were from $75 to $500 per month, depending upon the service level promised.
Returns fees are charged by nearly all of our warehouses in the survey – a full 95%, with the average return fee per order of $5.28. This represents a sharp increase from 2020's survey result of $4.05. Exactly the same percentage of warehouses (95%) charge a receiving fee. This comes as no surprise, as receiving is one of the most critical parts of the warehouse process. In fact, even those that don't charge a receiving fee are likely to bake the cost into another aspect of their fee schedule. The average receiving fee charge varied by type. The average hourly charge was $36.09, almost identical to last year's result. The average charge for a 40-foot container was $441. The receiving fee was charged at $2.58 per SKU on average (range of $2.5 to $10), and the average charge for receiving cartons was up sharply to $2.91, which was up from $1.50 last year (range of $0.5 to $5). In addition, the average per pallet receiving charge was $10.10.
The last fees that we surveyed were kitting services and inbound call center services. For kitting services, most companies use an hourly rate, since each project is unique in the amount of time it takes to perform. The average hourly rate for kitting came in at $35.47; and the average kitting cost per unit was $.30-$.63 for simple projects. Finally, our survey found that call center fees have dropped slightly. This year, they came in at an average of $.85 per minute, down from $1.05 a year ago.
As you can see, there is a lot of variety in how warehouse operations work, but the averages tell the general story of these warehouses. We would love to hear from you and see what additional data may be of interest to you. If you have an interest in warehouse processes and procedures, please contact us for more information.
To view the results of the previous surveys from the last couple of years, please see below:
2020:
Sizeable Increases in Warehousing and Fulfillment Costs According to insightQuote's 2020 Poll
2018-2019:
Warehousing and Fulfillment Fees Rise According to Latest insightQuote Survey
2017:
Warehousing and Fulfillment 2017 Warehouse Costs and Pricing Survey