Warehousing and Fulfillment Pricing Tips
by Will Schneider
Looking at a pricing proposal from a warehousing and fulfillment vendor is akin to browsing the statutes of a typical homeowners association. Although it may be a good solution for sleep troubles, reviewing the pricing proposals of warehousing and fulfillment companies should be done with great care and diligence.  Below are some tips to help avoid some of the challenges of warehousing and fulfillment pricing.
Make sure that the warehousing and fulfillment vendor has listed ALL costs
Beware of monthly minimum charges
Ask for volume discounts that are available for higher volume order processing and storage
Determine all monthly fixed recurring charges
Ask if the handling charges can be rolled into your product costs and make sure that you are comfortable with the resulting net profit
Ask if the vendor makes margin on freight
Ask for referrals from current customers to make sure that costs don't change after sign up
Check the vendor's BBB rating
Make sure that everything is documented in a contract
Taking a few precautions when looking at warehousing and fulfillment proposals can help in avoiding unncecessary troubles, and can lead to a long-term agreement that works for both sides.
Proactive Approaches Separate Customer Service Quality in Fulfillment Companies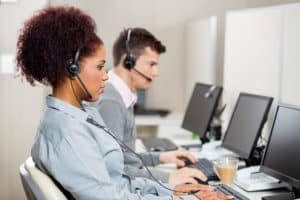 Working with a fulfillment company requires extensive communication to ensure that everything runs efficiently. Whether they are simply providing customer service to your team or handling a more extensive function such as direct communication with your end customers, the quality of this communication can make or break the entire fulfillment experience. What separates customer service quality in fulfillment companies is paying attention to various details you may not think about until they happen. It's why you should look carefully at your contract before working with a fulfillment center and see how they approach communication with you. Or, discussing it over with the manager can give you an idea.
Here are some things to consider so that you can avoid having any difficulties with the service provided by your fulfillment center.
Proactive vs. Reactive Responses in Customer Service
You can quickly determine which center has the best approach to customer service based on whether they do things proactively or reactively. In the latter case, the support team may only contact you when sending you a bill, or responding when you have a problem. Using a proactive method, on the other hand, is where they'll let you know in advance about specific issues, improvements, or savings that will benefit your company. Always be sure to ask if the fulfillment center has a proactive support team and what frequency they'll proactively reach out to you. Another good way to determine if they offer proactive customer service is to discuss the technology systems that they use and have them provide examples of how it helps them identify potential issues, track ongoing performance, and manage email and telephone communication for your company. Ideally, you should always have a symbiotic relationship with your fulfillment provider where communication happens frequently.
Support Staff Availability
Most people have experienced poor customer service where you have to spend 10 minutes to get a hold of a live person, get put on hold for extended periods of time, or deal with representatives that aren't able to handle the issue at hand. The same potential negative scenarios exist with your fulfillment operation unless you ensure that they have adequate support staff, training, and availability. The stakes are even higher if they are providing any support to your end customers. "Statistics show that when a company fails to respond properly to customer concerns, it all reflects badly on you, the retailer. A lousy customer response in dealing with a return could lose you a customer for life, including getting highly unfavorable reviews on influential places like Yelp," according to Max Zitney, who runs Ships-A-Lot in Warren, Ohio.
It's imperative you choose a fulfillment center that has support available during the appropriate business hours of your company. Most importantly, you need to have multiple contact methods as well to deal with an emergency. Methods of emergency correspondence could include text messaging, direct phone calls, using service such as Slack for transparent conversations, or standard email.
Mobile communication is equally essential, especially when you need to travel for business and can't visit the fulfillment facility in person.
Working With Account Managers on Communication
The account manager in your fulfillment center should keep communication going on a regular basis, including messaging you at agreed upon intervals to update you about what's going to occur. Having daily or weekly briefings confirms which items are getting shipped, which items get handled on returns, and details on warehouse procedures. If there's any changes in technology or other procedures, the account manager should let you know so you're aware of any slight downtime during transitions.
In addition, you should get monthly reports from this manager detailing everything from accuracy, speed, to savings they're giving you. When the fulfillment center can save you money through more enhanced technology, it only helps you in a time when customers expect deliveries yesterday rather than today.
The Delivery World of Tomorrow
Your Guide to Deliveries of the Past, Present, and Future
Pulp science fiction often gave us an image of the future that involved bio-domed malls, pneumatic tubes delivering mail directly in our homes, and milk still delivered by hand but from flying trucks. However, the true future of delivery will likely be hordes of boxes zipping through the air in flocks.
Products will get to market in automated fashions with robots doing much of the piloting, whether that's through ocean channels or direct-to-home drone delivery. Distribution pushes ever forward to cost reduction, agile delivery, and expanded access.
Innovation has always been at the heart of each economy's distribution model – from the Minoan civilization adopting the first aqueducts in the 2nd millennium BCE and the introduction of diesel-powered refrigeration trains on cars in the 1950s to the automated warehouses of today.
Delivery Tech That May Go the Way of the Dinosaurs
Understanding the future of delivery should start with a strong foundation of the past and of what we're using today that we might not use in the near future. Here are two areas that we think may face an extinction event in the future.
The 1900s Wholesalers
Distribution became a specific function of businesses, and sometimes the only service offered, in the early 1900s thanks to recent increases in mass production. Creating goods quickly meant they could be sold quickly if they made it to new markets. Wholesalers stepped up to allow manufacturers to move large quantities of goods, leaving the wholesaler to make local deals, sometimes at a right of twice what they paid the manufacturer for it.
Goods-Branded Stores
You've read the section head and you might think that we're crazy. I mean everyone loves the Apple store right?
But two of the most common things we buy are purchased from stores that aren't necessarily associated with their products: food and clothing. Grocery store chains typically aren't named after a product they carry or sponsored by a specific food maker because they simply stock too many items. The same goes for most clothing stores, which are branded separately even if they offer their own clothing line.
Amazon did this on the Web, moving us away from buying direct from the manufacturer to a more all-purpose store. And, that was the big shocker because everyone thought the Internet meant selling more goods directly to the customer.
Intermediaries actually became stronger and manufacturers have had to reduce costs because new e-commerce distributors control market access by making it convenient for the consumer.
Delivery, Meet George Jetson
Amazon is the perfect segue into the future, even if the brand is supplanted at some point, because it is among the most vocal brands predicting what the future of delivery will be.
Even as the company starts operating more delivery vans and trucks in local markets, it has openly discussed not needing the employees driving those trucks. There are a few paths forward that Amazon and others may take in the driverless future, and here are our favorites, as detailed by Red Stag Fulfillment in their article on The Future of Distribution.
Flying Deliveries
Drones are the easiest thing to point to as a future for distribution. There are already trials and some autonomous units don't need an operator. The biggest concern is that they're limited to about 10 lbs. with a 10-mile delivery radius, and they seem fairly easy to compromise.
Also, how will a delivery drone deal with a multi-unit home? Where will it drop off goods at an apartment building? How many consumers would buy and install a drone landing page so they could get a package?
What this may end up creating for a short time is a central location where packages are dropped off and then picked up by the user whenever it's convenient. However, that part of the model feels old and antiquated.
Driverless Trucks
The autonomous vehicle rage makes the daily commute sound nice, but it could make the biggest impact in deliveries. Image an autonomous truck that doesn't have to worry about HOS rules. It never speeds and can automatically adjust to road conditions or traffic updates, always with a preference for low-traffic routes.
RFID tags already provide trucks with plenty of information on cargo, so it isn't farfetched to think they could supply trucks with delivery information when they reach a warehouse gate. It's a more predictable and stable supply chain.
Robotic Warehouses
Full automation should be put in the "likely reality" category perhaps ahead of either drones or driverless cars. Current technology already does much of our sorting and order/inventory management. Amazon's Kiva robots can even do some basic picking.
Manufacturers have long used cameras for quality control, so that isn't a stretch in the warehouse either. One thing that may be difficult is recreating the custom packaging that's taken the industry by storm. But then again, that's just about teaching a robot proper filling order and paper-folding with a quality-check from an optical sensor.
Robots may also learn to be more delicate than humans and can have tighter controls on governance – never skimping on the bubble wrap.
Who Will Connect the Dots?
This is going to seem a little far-fetched (excuse the pun) but we think that the old-shaped, extra-sensitive or especially unusual item will be the perfect place to look in order to know that the future has arrived.
Unusual items to not be local and they don't fit well within automated systems. They'll have extra packaging requirements, need specific carrying instructions, have limited pre-staging options, and will require every point the supply chain to touch.
The future of unusual item shipping may involve something as complicated as specialized trucks that can bring a selection of goods to a local planning area and then have drones fly from the truck to the customer's home. This will likely require a human driver initially to ensure that a safe and secure parking location is chosen for the delivery base.
Or, we could be looking at a more routine distribution side of the supply chain, with production taking the new route. 3D printing continues to improve and may allow manufacturers to set up local production facilities for these kinds of orders, so that geography is no longer a limiting or controlling factor.
The future of distribution is likely going to be the same kind of disruption we see in many other areas of tech. It's exciting to think about these scenarios coming to fruiting, and perhaps more exciting to see what we didn't expect becoming reality.
Interviewing E-fulfillment Companies: What Questions Should You Be Asking?
Shopping for any business service is a high-stakes evaluation, especially one that affects the value delivered to your customers. For e-commerce businesses, one of the critical arteries supplying the lifeblood to your businesses is the choice of fulfillment provider. After all, the chosen fulfillment company will be responsible for receiving, storing, picking, packing, and shipping your product to customers. Essentially, the fulfillment company is responsible for ensuring that the value created by your marketing team, web developers, product engineers or procurement team, and customer service representatives, is actually delivered to your consumers in the expected condition, as fast as possible, without any flaws.
WarehousingAndFulfillment.com can be incredibly valuable in assisting e-commerce business owners through the process of finding the best e-fulfilment company. However, once you have your options narrowed down to three or four potential providers, what questions should you be asking in order to reveal the company that will provide the highest level of value to your brand?
How an E-Fulfillment Company Became a Fulfillment Company
We recently had an opportunity to speak in depth with Jake Rheude of Red Stag Fulfillment – an e-fulfillment company that was born out of this exact situation. When the ownership of an e-commerce company spent years unable to find a high-quality fulfillment provider that cared as much about delivering value to customers as they did, the decision was made to attempt to build the fulfillment provider they could not find.
One of the tools used to guide the development of Red Stag was a checklist that had been developed by their e-commerce sister company, which served as a set of "interview questions" used to evaluate potential fulfillment providers. Having outgrown two e-fulfillment providers, the owners of the e-commerce company had become all too aware of terms such as "shrinkage allowance," which are often hidden in the fine print of fulfillment company contracts. They had also experienced firsthand the repercussions of a lackadaisical workforce, long-term contacts, hidden fees, and security issues.
The Fulfillment Checklist is divided into 2 sections. The first section delves into questions related to "Reliability". The second section explores questions around warehouse "Security."
Checking for Reliability
There is no question about it – you must find a fulfillment provider that can consistently deliver high quality service, meeting the ever-increasing needs of your customers. In their fulfillment provider questionnaire, reliability is addressed by asking some critical questions:
Do you offer an Order Accuracy Guarantee?
If you make an error on an order, will you pay an error penalty fee on top of correcting the mistake?
Do you have a "no hidden fees" policy?
Do you offer free account setup?
Do you have a Technology Team available to resolve any system or technology issues?
Do you have a policy on inventory shrinkage or damage?
If any of my inventory is lost or damaged, will you reimburse me for the cost of that inventory?
Do you offer an Inventory Accuracy Guarantee?
Do you offer an Order Processing Guarantee?
Do you have a backup generator so the facility and systems are always online?
Do you have a no long-term contract agreement?
Is inventory received within one business day?
Is Your Warehouse Operation Secure?
Checking for Security
The second section of the fulfillment provider questionnaire is devoted to the security of their warehouse operations. Critical questions are explored in this section, such as:
Does your facility have a 24-hour monitored security camera system?
Does your facility security system have multiple power source backups?
Do you have website security with 100% uptime?
Does your facility have 24-hour camera coverage of every square foot of operation?
Does your facility have an individualized access control system with on-site management?
Do you do full background checks on your employees?
These are just a sample of the many questions that you can ask your potential provider before making what could be one of the most critical decisions for your logistics operations. The fulfillment provider questionnaire is conveniently crafted in a PDF document so that you can easily download and fill out. To view and download the entire PDF, click here.
Fulfillment Companies Can Offer Specialized Services – Just Ask!
If you are currently working with and/or looking into hiring a fulfillment company, you have many options to consider, and possibly more than you may think. Perhaps you think of a fulfillment company in simple terms: they receive your goods, warehouse them, and send them out to your customers. While it is certainly true that you can rely on your fulfillment partner for those basic services, you should know that some fulfillment companies offer specialized services as well.
Going Beyond Shipping a Package
While many logistics company force you to fit into their box of processes and procedures, some fulfillment companies offer specialized services that can be tailored to meet your company's specific needs. One of many fulfillment companies we partner with here, Flexible Fulfillment, specializes in meeting each client's unique needs. As an example of providing specialized services for their customers, Flexible Fulfillment provides services for a high-end leather jacket company that wanted to add that "special something" to each shipment they mail out. Specifically, they wanted each customer to receive a handwritten note to let them know the care put into their product, and they wanted the overall packaging to project the overall brand of the company.
In order to fulfill this wish, Flexible Fulfillment hand-folds each shirt in a very specific manner.
Furthermore, their staff places the hand written note inside before packaging and sending the jackets to the customers.
Little things like this can make all the difference to your clients and to your bottom line.
Fulfillment is the Key Word
What kind of touches can you think of that you might want to add to your packages? It might be a hand-written note or it might be gift packaging. Perhaps, you have delicate materials to package in a unique and beautiful way. If you are looking for a fulfillment company that will perform similar tasks for you, and even if you are not sure yet what you want, make sure to look for one that offers additional kitting services and that offers flexibility in packaging. Many companies, especially the larger companies, simply won't allow you to change or deviate from their standard way of processing orders. While this helps in some ways to reduce potential errors, it can be crippling to smaller and growing companies that simply have to provide a customized experience to their customers in order to grow and remain competitive.
Fulfillment and Customer Satisfaction
Whatever your business, you know customer satisfaction and retention are key. As a crucial component of customer satisfaction, how do you make the customer feel as if you care about them – that they matter to you? A solid order fulfillment strategy, including some of these small touches can make all the difference. Imagine yourself in the customer's shoes, receiving that little handwritten note. Imagine being aware that your delivery is special and unique. This is what separates successful online retailers – they think about every single detail from the time the order is placed until it reaches the customers. A highly flexible and unique fulfillment experience is becoming increasingly more important, especially as online retailing grows at an exponential clip.
Additional Costs of Specialized Services of Fulfillment Companies?
Here is a question you may be asking yourself right now. All of that sounds great, but … how will it impact your bottom line? You might be surprised. If you are in the market for a fulfillment provider, you already know the benefits inherent in having an expert do the work for you. Your goods have to get packaged and shipped to the customer anyway and with the help of an expert distributor the goods get there securely and efficiently. The same is true of additional services. You could hypothetically do all this work yourself, but the man-hours would be too much, forcing you to allocate less time to other highly important functions of the business. An expert fulfillment company can work with you and help you to go above and beyond, with the know-how to do so efficiently and well, at lower costs with higher rewards.
Fulfillment Companies Mean Quality – and Quality Counts
Look at it this way. You want the best for your customers and that includes competitive pricing. Your overall costs include the cost of shipping goods from your manufacturing facilities to the consumer. What you want is a fulfillment company that can do this work efficiently. Fulfillment companies that do this well also know how to work within the process, to make small changes in accordance with your unique requirements. When you can find a fulfillment company like that, you know you are dealing with well-qualified experts. This kind of specialized service may not be for everyone but if you think it could work for you, you will almost definitely find that the benefits far outweigh the costs.
Do you have questions about finding the best fulfillment provider for your business? Would you like to know some of the options available to you? Contact us today and let us help you make the best match for your business.
Fulfillment for Start-ups and Small Businesses
Fulfillment companies are notorious for looking for new business customers that ship high volumes of orders. It's no secret that a larger volume of orders produces more income for the fulfillment company, and with larger volumes there is typically less risk than taking on a start up or growing company. In fact, many fulfillment and 3PL providers will tell you that you shouldn't even consider outsourcing your fulfillment until you get to a certain level of order volume, arguing that it doesn't make sense from a cost perspective to outsource until you reach a minimum order volume. But is all of this really true, or are there instances when outsourcing makes sense even for a start up or small businesses? Are there companies that truly focus on start-up, smaller and growing businesses, offering a fulfillment solution that is affordable and workable for their specific needs?
Why Optimal Order Volumes are a Myth
It is certainly true that efficiencies are gained when order volume increases, but it's absolutely untrue that smaller businesses shouldn't outsource unless they reach a certain order volume. First, consider the situation where a small business would rather think "strategically", focusing most of its internal efforts on growth rather than inserting product into a box and slapping a label on it. Not to minimize the importance of the logistics process as it is extremely important, but growth reigns in a business. In most cases, if you're not growing sales, then you're probably shrinking. Especially for smaller or start-up businesses, it could just as easily be argued that razor sharp focus on growth and marketing is absolutely critical to success and longevity of the business. Second, there are a wealth of other instances where outsourcing for a smaller or start-up oriented business make sense, such as international companies looking to expand presence into the US without opening up a physical operation, locating fulfillment closer to the manufacturer or supplier or customer base, or a wealth of other legitimate reasons.
So Start-up Friendly Fulfillment Companies Do Exist?
The good news for start-up or growing companies is that there are some great options for outsourcing fulfillment with companies that have a favorable service and terms for their type of fulfillment project. These companies have focused on building systems, processes, technology and people to be able to offer a cost effective and flexible solution. In fact, if done the right way, these companies are capable of creating a diversified portfolio of clients that aggregately ships in high volumes, creating a unique solution that, as a whole, operates in a similar fashion to a fulfillment company that has a smaller subset of larger volume clients. "The other benefit we see is that oftentimes these smaller and start-up businesses grow significantly, turning into a larger volume shipper," said Jeremy, owner of Justified Logistics who focuses on order fulfillment services.
The Right Kind of Fulfillment Company Offers Advantages to Smaller Businesses
Ultimately, the benefit of using a fulfillment company that specializes in shipping for smaller volume customers is plentiful. First, these types of companies are typically more flexible – they're usually smaller businesses themselves with 1-2 regional locations, with processes and procedures but not over-the-top red tape that you have to sift through. For example, larger companies may require orders to be shipped out a certain way without deviation and in its own packaging, whereas small business fulfillment companies offer more flexibility to tailor the order and packaging experience. They understand, after all, that you have to find creative ways to win deals, so they are flexible to meet these needs. Second, smaller volume friendly fulfillment companies have more favorable terms, usually without monthly minimums, since they bank on the aggregate volume of all orders and know that every penny counts for start-ups and growing firms. Third, with smaller companies, oftentimes more dynamic and personable relationships can be forged, as you'll likely be able to interface with upper level management and won't be so much of a "number."
All in all, it's important to know that you do have options as a start-up or growing business. Although there are articles out there that claim you shouldn't start outsourcing at an early stage, this couldn't be further from the truth in a number of cases. By focusing on a company that caters to your particular situation, you do have options to offload this important aspect to a professional organization, so that other business areas can get the attention they need to succeed as a business as a whole.
Fulfillment is More than Picking and Shipping
Marketing departments and Crowdfunders are looking for fulfillment partners who understand their marketing needs, help with their branding, and have access to creative reward options. Many fulfillment companies are equipped to handle transaction mailing but do not have printing expertise. On the other hand, companies who are experts in printing t-shirts or giveaway items lack a complete fulfillment solution. To be your complete fulfillment solution, a fulfillment organization should have expertise in the following:
Dedicated Graphic Design Team

– Good design is an essential part of presenting your business and governs your marketing. A fulfillment house that has a dedicated graphic team can provide a constructive eye on your print elements and give input on what would print effectively. A good graphic team can make sure whether a particular font or text size will print correctly or catch simple spelling or grammar errors. These simple corrections can save an organization from costly mistakes. A dedicated graphic team can check the artwork and also if the artwork is setup on the correct template. Also, a proper archival system ensures that the files are available for future print runs if needed and future re-runs should look same as the first run.
Onsite T-shirt Production

– Custom printed t-shirts are not only an important giveaway but also used by organizations to raise additional revenue. A custom printed shirt offered for sale for charity or an artist selling shirts to his/her fan base must be produced cost effectively. Most custom t-shirt print houses fulfill T-shirts on demand which is expensive and does not help organization raise money effectively. A good fulfillment house should have ability to produce custom printed shirts onsite so the shirts can be printed with lower cost and quicker turnaround.
Promotional Printing

– A good fulfillment must have a good print department. Catalogs, brochures, info and sample packs, branded premiums, and coupons are common examples of printed items used to promote a product or company. A promotional fulfillment program could be a one-time event or an ongoing campaign. Promotional fulfillment could be targeted at new prospects and/or existing customers. Other popular items distributed through print fulfillment programs include educational materials, repair and training manuals, sheet music, calendars…basically any printed item that is offered to consumers can be part of a print fulfillment program. A fulfillment department with print capability to help support these marketing initiatives.
Consultative Approach

– A fulfillment partner is an extension of you business and should be readily available to take a phone calls or answer email. There are an overwhelming amount of options that you do not have time to go through yourself. You should be able to rely on their expertise in recommending solutions and products and trust them to cut through and let you choose from a handful of the best options.
It is huge value add when you have a partner who has made the investments and connections to smoothly handle your needs for now and in the future. The right fulfillment partner can do more than just pick and ship.
What Happens When You Need More Than Just Fulfillment?
Many companies looking for warehousing and fulfillment services are simply looking for a traditional fulfillment firm – one that can store their product, pick and pack orders, and ship orders without any additional customization or special ancillary services. But for others, such as those looking for contract bottling and packaging, CD/DVD duplication services, printing services, web design or marketing services, or even customer service solutions, the challenge of choosing the right company becomes more intense. In this case, there are usually a couple of options ranging from using one provider for fulfillment and another for the additional service to using a single provider for everything or even keeping some of the services in house. How does a company best determine the optimal solution for their business? A thorough examination of each option reveals the answer.
A High Performing "All Inclusive" Services Provider is Hard to Beat
For ease of use and management, and for the benefit of minimizing costs associated with additional movement of product from one service provider to the next, a company that provides all of the fulfillment and value added services under one roof can be a compelling solution – if, of course, the provider performs each of the services at exceptional levels. For example, some companies, such as cosmetics companies, require the use of a contract bottler, contract packager and warehousing and fulfillment company. For these companies, the ease of use of having the same company perform bottling, packaging, and fulfillment services can bring significant savings and eliminate unnecessary movement of goods and labor hours managing the entire process. Companies such as Simplicity Filling Systems are known for high level quality and service for contract bottling, packaging and fulfillment for cosmetics products. Again, this can be a very good option if the company performs each service up to standard – so make sure that you adequately access the quality and performance of the outsourced provider in each area of specialty.
Sometimes Combining Separate Specialists Can Lead to Success
In some cases, all inclusive options either don't exist in a specific niche or location, or high quality companies that can perform at a high level in every specialty isn't an option. It is not uncommon to see some "all inclusive" fulfillment providers perform the fulfillment work, but offer less than stellar performance related to other areas such as printing, bottling, contract packaging or call center work. In these cases, you may have to combine the resources of multiple companies to find the best solution. This approach has many benefits. First, it diversifies risk. If ever you want or need to make a switch with either of the providers, you can do so without having to pull the entire outsourced set of services. Second, you can find true professionals in each service area needed, which should result in higher quality since the provider is a specialist in a particular niche.
You May Have to "Pitch In" Yourself
Of course, there are situations that require you to outsource some of the services while at the same time performing other services in house. Many companies choose this option when they absolutely cannot compromise in a certain service level, or when they simply can't find a satisfactory solution on an outsourced basis that is feasible for their business. While this option requires in house work, it also allows the company to maintain complete control over the process.
All in all, the options are plentiful – so be sure to check out each option. Most importantly, be sure to check the quality of each solution that you're considering by performing a thorough background check and screening process. By taking time to look at all of the options, you'll be better suited in the long run to make the best choice.
Selecting a Canadian Warehouse Location
Where to start?
It makes sense to start by analyzing your supply chain and to discover where most of your product is flowing to. The key to a successful and efficient supply chain is to consider the following questions:
Where is your port of entry?
Where are your customers mainly located?
Does your volume qualify you to have multiple locations?
Throughout this article, I will be referring to a consumer goods company shipping 40' containers from Shenzhen (China) to Vancouver (Canada).
Analysis of the Canadian Consumer
The location of Canadian customers falls roughly in line with a provincial population map. With that in mind, it is generally safe to assume that 38.4% of Canadians are in Ontario, 23.6% in Quebec, 13.1% in British Columbia, 10.9% in Alberta, 3.6% in Manitoba, and 3.1% in Saskatchewan. These provinces make up almost 93% of the Canadian population. All other provinces are under 3% or less.
The interesting thing about the map below is that it does not give you an idea of where people live within the provinces. 90% of all Canadians live within 100km (62 miles) of the US border. So the map below may look daunting, but the vast majority of Canadians are actually very close by.
The greyed out area makes up 0.8% of the Canadian population – not including polar bears.
Considering the above information, we can see that the 4 most likely locations to consider in terms of sheer population size are Ontario, Quebec, British Columbia, and Alberta.
The two key distribution hubs are Ontario and British Columbia as most consumer products come through Vancouver's port, and the majority of perishable and automotive shipments pass through Ontario by road or rail. Ontario and Quebec make up 62% of Canada's population, and this number is growing every year. Most major companies distribute their products from either Ontario or Quebec because the largest cost is the end delivery either to distribution centre, store, or the customer's home address. If 62% of your customers are in one area, it makes sense to warehouse your product in close proximity. Furthermore, 53% of Ontarians live in the Greater Toronto Area, or within 1 hour's drive of Toronto.
Reducing Shipping Costs & Delivery Times
If product arrival is not time sensitive, it may be an option to utilize rail as a means to move product from Vancouver to Ontario or Quebec. Shipping by rail can save companies as much as 33% on shipping costs. However, if getting your product to your warehouse is a priority it makes sense to utilize air freight, or a reliable large carrier such as Challenger Motor Freight. Full truckload shipments from Vancouver to Toronto generally take 4-5 days of driving (weather dependent) for a single driver, and that time can be cut in half by team drivers.
Here's an example to show why it often makes sense to warehouse your product in Ontario:
This is not to say never to warehouse product in Vancouver. If a customer has enough order volume in British Columbia or Alberta, it may make sense to warehouse some product there rather than sending it all the way to Ontario, only to ship it back out to West. That would be expensive and wasteful.
Reducing Shipping Costs & Delivery Times
If you're shipping from China to Vancouver and have customers all across Canada, my recommendation is to warehouse some product in Vancouver area, and to move the rest to the Greater Toronto Area. This is a broad and general statement, but at the end of the day it usually holds true. The key is to look at where your shipments are entering Canada, and to analyse your order destinations within Canada. Keeping the distance and time short on the final delivery is very important.
Article by Ryan Bennett of Challenger Motor Freight
As E-Commerce Grows, A New Breed of Fulfillment Companies Offer Online Retailers Value Beyond Shipping
In years past, fulfillment companies simply served as an outsourced shipping department, storing goods for companies and shipping orders to their customers. While the breadth of services have steadily increased over time in order to meet the rigorous demands of multi-channel fulfillment, including retail and e-commerce fulfillment environments, fulfillment has largely been…fulfillment. That is, until a new breed of fulfillment companies have cropped up that offer services outside of the scope of packing and shipping.
How Innovation in Fulfillment Got Started
Perhaps it all started with some of the major online marketplaces, such as Amazon and eBay, offering fulfillment for companies selling on their respective marketplaces. For smaller and more regional logistics companies looking to compete with services like Fulfillment by Amazon, new and creative ideas had to be fostered to level the competitive playing field. After all, it seemed to make sense for a large number of sellers to not only list their products on a website but also have that same company fulfill orders. If traditional fulfillment companies didn't want to become a dinosaur, they had to come up with a way to win back sellers.
Further complicating the competitive landscape was the introduction of additional sales channels online – from social media to crowdfunding platforms and beyond. Online merchants, with each passing day, had more and more sales channels online at their disposal – which was particularly intriguing for smaller and start-up businesses because they were finally afforded the opportunity to compete with bigger retailers and businesses. In fact, with the world at their fingertips, online merchants were only limited by the time and investment required to participate in these sales meccas.
Opportunity and Timing Collided for Forward Thinking Fulfillment Firms
Naturally, the first wave of fulfillment innovators chose the path of becoming a niche expert for fulfillment services in these specific online marketplaces. For example, some firms chose to focus specifically on fulfilling order for crowdfunding campaigns, or became e-commerce fulfillment experts – building sophisticated integrations with web store software programs so that they could receive online order, offer real-time reporting, and even in some cases offering support for inbound calls and order taking.
But a new breed has evolved to take things to the next level of service, offering even more than fulfillment itself for businesses that either don't have the time or resources to take advantage of every opportunity. For Utah Based IFS (International Fulfillment Solutions), the move from straight fulfillment to value added services was obvious. According to Ryan Treft, President at IFS, the company saw a need to assist companies with selling in various online marketplaces. "We have essentially created a distribution arm of our company which allows us to offer the channels as additional sources of revenue for our clients. Half the battle in selling a product into retail has nothing to do with the product itself…it has to do with convincing the buyer to set you up as a vendor. That's where we come in. We are the vendor of record with 21 major ecommerce retailers. We ask our fulfillment clients if they want us to manage sales of their product into any of these channels. Once they pick the ones relevant to their brand, we submit and we can add much easier than they can. We confirm the order, we provide the tracking, we buy product from our own clients to manage the channels they have chosen. "
This unique add-on service does a couple of things for companies like IFS. First, it adds tremendous value for fulfillment customers. According to Danny Villarreal of Zarbee's (who utilizes IFS for value added services), "We have been able to fully offload our online orders and samples fulfillment and have confidence that our customers will be taken care of.  The great part is that we can now focus on driving our marketing and business and know our fulfillment is in a solid place."
But adding value isn't the only benefit. In addition, these services make the entire process faster, bringing sales and profits to growing companies sooner than later. For another IFS customer, ATGStores.com, the add-on service was an easy decision. Because the process to add new brands is quite extensive, having a relationship with a current vendor already intact makes the process easy and to get things done fast. They were able to get from point A to point B much quicker than on their own.
Innovation Will Continue to Shape the Fulfillment Industry
Outside of the benefits to customers, value added, online sales oriented services does another very crucial thing – it allows these creative fulfillment companies to compete with much larger fulfillment marketplace competitors and fulfillment companies in general. As is true in business, healthy competition and changes in the marketplace spur innovation and growth. It will no doubt be interesting to see what will come about as a result in this most recent shift in fulfillment services. As online selling and logistics continue to collide, companies will continue to find new ways to add additional value and further differentiate from their competitors, which will help propel online sellers to a new level of potential success and continue to disrupt the logistics industry.
The Importance of Reverse Logistics
Reverse logistics is one of the most frequently overlooked elements of the complete business operations cycle, yet it presents enormous opportunity for companies skilled in it.
Reverse Logistics can be defined as a study on the movement of a returned product or batches of products to recapture value by swiftly deciding how to deal with the product so that is can re-enter the supply stream as soon as possible in a predetermined form.
As E-Commerce grows at an extremely rapid rate and more consumers are now shopping online, this growth is also resulting in the growth of online returns. A large number of online marketers are encouraging consumers to buy and return products by means of "free returns shipping" or "open returns policies". This is creating an even bigger challenge to Reverse Logistics teams who are seeking to extract value from those returns.
In a survey conducted by Harris Interactive it was found that 85% of customers will not shop with your company again if the returns process is not convenient, however 95% of customers will shop with you again if your returns process is convenient.
This is presenting a new and more challenging environment for Reverse Logistics professionals as well as opportunities for companies who recognize the competitive advantage that can be gained from effectively managing their returns.
It's extremely important to implement processes that streamline returns so that sales and repeat customers aren't lost forever. For companies that utilize in-house logistics, there are some very important factors to consider during the returns process:
Make the returns process as easy as possible. It used to be that companies made consumers jump through hoops in order to "earn" a return. But with the stakes being so high, it's extremely important to make the process painless. (Making returns easier can be accomplished by generating return labels, tracking the return shipment, and scheduling return shipments.)
Create an actual return policy. The easiest way to control the entire process is to create a concrete game plan regarding the returns process. Document this entire process both for your internal team as well as for customers.
Of course, some companies utilize outsourced fulfillment services. Many of these companies offer returns processing as well. However, don't just assume that all companies offer "professional returns processing" services. Companies that truly specialize in returns processing will be able to show a track record of success with these types of programs. For example, Links Warehousing and Fulfillment, is a Toronto, Canada based 3PL and is an experienced partner who understands the importance of reverse logistics and provides a streamlined service and customized solutions to generate maximum recovery for our clients. They can assist you by providing a centralized return centre; manage the flow of returned product, manage product recalls, and will inspect, test, repair, cannibalize parts for re-use as well as repackage products in preparation for resale. They will also take care of end of life recycling as well as regulatory-compliant disposal, and will also consolidate returns for shipment back to your facility in the US or directly to your vendor. As you can see, companies that specialize in returns handling provide very professional and sophisticated services.