Proactive Approaches Separate Customer Service Quality in Fulfillment Companies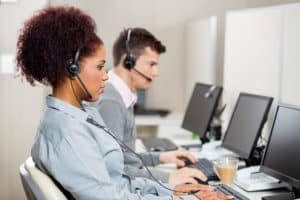 Working with a fulfillment company requires extensive communication to ensure that everything runs efficiently. Whether they are simply providing customer service to your team or handling a more extensive function such as direct communication with your end customers, the quality of this communication can make or break the entire fulfillment experience. What separates customer service quality in fulfillment companies is paying attention to various details you may not think about until they happen. It's why you should look carefully at your contract before working with a fulfillment center and see how they approach communication with you. Or, discussing it over with the manager can give you an idea.
Here are some things to consider so that you can avoid having any difficulties with the service provided by your fulfillment center.
Proactive vs. Reactive Responses in Customer Service
You can quickly determine which center has the best approach to customer service based on whether they do things proactively or reactively. In the latter case, the support team may only contact you when sending you a bill, or responding when you have a problem. Using a proactive method, on the other hand, is where they'll let you know in advance about specific issues, improvements, or savings that will benefit your company. Always be sure to ask if the fulfillment center has a proactive support team and what frequency they'll proactively reach out to you. Another good way to determine if they offer proactive customer service is to discuss the technology systems that they use and have them provide examples of how it helps them identify potential issues, track ongoing performance, and manage email and telephone communication for your company. Ideally, you should always have a symbiotic relationship with your fulfillment provider where communication happens frequently.
Support Staff Availability
Most people have experienced poor customer service where you have to spend 10 minutes to get a hold of a live person, get put on hold for extended periods of time, or deal with representatives that aren't able to handle the issue at hand. The same potential negative scenarios exist with your fulfillment operation unless you ensure that they have adequate support staff, training, and availability. The stakes are even higher if they are providing any support to your end customers. "Statistics show that when a company fails to respond properly to customer concerns, it all reflects badly on you, the retailer. A lousy customer response in dealing with a return could lose you a customer for life, including getting highly unfavorable reviews on influential places like Yelp," according to Max Zitney, who runs Ships-A-Lot in Warren, Ohio.
It's imperative you choose a fulfillment center that has support available during the appropriate business hours of your company. Most importantly, you need to have multiple contact methods as well to deal with an emergency. Methods of emergency correspondence could include text messaging, direct phone calls, using service such as Slack for transparent conversations, or standard email.
Mobile communication is equally essential, especially when you need to travel for business and can't visit the fulfillment facility in person.
Working With Account Managers on Communication
The account manager in your fulfillment center should keep communication going on a regular basis, including messaging you at agreed upon intervals to update you about what's going to occur. Having daily or weekly briefings confirms which items are getting shipped, which items get handled on returns, and details on warehouse procedures. If there's any changes in technology or other procedures, the account manager should let you know so you're aware of any slight downtime during transitions.
In addition, you should get monthly reports from this manager detailing everything from accuracy, speed, to savings they're giving you. When the fulfillment center can save you money through more enhanced technology, it only helps you in a time when customers expect deliveries yesterday rather than today.
The Delivery World of Tomorrow
Your Guide to Deliveries of the Past, Present, and Future
Pulp science fiction often gave us an image of the future that involved bio-domed malls, pneumatic tubes delivering mail directly in our homes, and milk still delivered by hand but from flying trucks. However, the true future of delivery will likely be hordes of boxes zipping through the air in flocks.
Products will get to market in automated fashions with robots doing much of the piloting, whether that's through ocean channels or direct-to-home drone delivery. Distribution pushes ever forward to cost reduction, agile delivery, and expanded access.
Innovation has always been at the heart of each economy's distribution model – from the Minoan civilization adopting the first aqueducts in the 2nd millennium BCE and the introduction of diesel-powered refrigeration trains on cars in the 1950s to the automated warehouses of today.
Delivery Tech That May Go the Way of the Dinosaurs
Understanding the future of delivery should start with a strong foundation of the past and of what we're using today that we might not use in the near future. Here are two areas that we think may face an extinction event in the future.
The 1900s Wholesalers
Distribution became a specific function of businesses, and sometimes the only service offered, in the early 1900s thanks to recent increases in mass production. Creating goods quickly meant they could be sold quickly if they made it to new markets. Wholesalers stepped up to allow manufacturers to move large quantities of goods, leaving the wholesaler to make local deals, sometimes at a right of twice what they paid the manufacturer for it.
Goods-Branded Stores
You've read the section head and you might think that we're crazy. I mean everyone loves the Apple store right?
But two of the most common things we buy are purchased from stores that aren't necessarily associated with their products: food and clothing. Grocery store chains typically aren't named after a product they carry or sponsored by a specific food maker because they simply stock too many items. The same goes for most clothing stores, which are branded separately even if they offer their own clothing line.
Amazon did this on the Web, moving us away from buying direct from the manufacturer to a more all-purpose store. And, that was the big shocker because everyone thought the Internet meant selling more goods directly to the customer.
Intermediaries actually became stronger and manufacturers have had to reduce costs because new e-commerce distributors control market access by making it convenient for the consumer.
Delivery, Meet George Jetson
Amazon is the perfect segue into the future, even if the brand is supplanted at some point, because it is among the most vocal brands predicting what the future of delivery will be.
Even as the company starts operating more delivery vans and trucks in local markets, it has openly discussed not needing the employees driving those trucks. There are a few paths forward that Amazon and others may take in the driverless future, and here are our favorites, as detailed by Red Stag Fulfillment in their article on The Future of Distribution.
Flying Deliveries
Drones are the easiest thing to point to as a future for distribution. There are already trials and some autonomous units don't need an operator. The biggest concern is that they're limited to about 10 lbs. with a 10-mile delivery radius, and they seem fairly easy to compromise.
Also, how will a delivery drone deal with a multi-unit home? Where will it drop off goods at an apartment building? How many consumers would buy and install a drone landing page so they could get a package?
What this may end up creating for a short time is a central location where packages are dropped off and then picked up by the user whenever it's convenient. However, that part of the model feels old and antiquated.
Driverless Trucks
The autonomous vehicle rage makes the daily commute sound nice, but it could make the biggest impact in deliveries. Image an autonomous truck that doesn't have to worry about HOS rules. It never speeds and can automatically adjust to road conditions or traffic updates, always with a preference for low-traffic routes.
RFID tags already provide trucks with plenty of information on cargo, so it isn't farfetched to think they could supply trucks with delivery information when they reach a warehouse gate. It's a more predictable and stable supply chain.
Robotic Warehouses
Full automation should be put in the "likely reality" category perhaps ahead of either drones or driverless cars. Current technology already does much of our sorting and order/inventory management. Amazon's Kiva robots can even do some basic picking.
Manufacturers have long used cameras for quality control, so that isn't a stretch in the warehouse either. One thing that may be difficult is recreating the custom packaging that's taken the industry by storm. But then again, that's just about teaching a robot proper filling order and paper-folding with a quality-check from an optical sensor.
Robots may also learn to be more delicate than humans and can have tighter controls on governance – never skimping on the bubble wrap.
Who Will Connect the Dots?
This is going to seem a little far-fetched (excuse the pun) but we think that the old-shaped, extra-sensitive or especially unusual item will be the perfect place to look in order to know that the future has arrived.
Unusual items to not be local and they don't fit well within automated systems. They'll have extra packaging requirements, need specific carrying instructions, have limited pre-staging options, and will require every point the supply chain to touch.
The future of unusual item shipping may involve something as complicated as specialized trucks that can bring a selection of goods to a local planning area and then have drones fly from the truck to the customer's home. This will likely require a human driver initially to ensure that a safe and secure parking location is chosen for the delivery base.
Or, we could be looking at a more routine distribution side of the supply chain, with production taking the new route. 3D printing continues to improve and may allow manufacturers to set up local production facilities for these kinds of orders, so that geography is no longer a limiting or controlling factor.
The future of distribution is likely going to be the same kind of disruption we see in many other areas of tech. It's exciting to think about these scenarios coming to fruiting, and perhaps more exciting to see what we didn't expect becoming reality.
What Happens When You Need More Than Just Fulfillment?
Many companies looking for warehousing and fulfillment services are simply looking for a traditional fulfillment firm – one that can store their product, pick and pack orders, and ship orders without any additional customization or special ancillary services. But for others, such as those looking for contract bottling and packaging, CD/DVD duplication services, printing services, web design or marketing services, or even customer service solutions, the challenge of choosing the right company becomes more intense. In this case, there are usually a couple of options ranging from using one provider for fulfillment and another for the additional service to using a single provider for everything or even keeping some of the services in house. How does a company best determine the optimal solution for their business? A thorough examination of each option reveals the answer.
A High Performing "All Inclusive" Services Provider is Hard to Beat
For ease of use and management, and for the benefit of minimizing costs associated with additional movement of product from one service provider to the next, a company that provides all of the fulfillment and value added services under one roof can be a compelling solution – if, of course, the provider performs each of the services at exceptional levels. For example, some companies, such as cosmetics companies, require the use of a contract bottler, contract packager and warehousing and fulfillment company. For these companies, the ease of use of having the same company perform bottling, packaging, and fulfillment services can bring significant savings and eliminate unnecessary movement of goods and labor hours managing the entire process. Companies such as Simplicity Filling Systems are known for high level quality and service for contract bottling, packaging and fulfillment for cosmetics products. Again, this can be a very good option if the company performs each service up to standard – so make sure that you adequately access the quality and performance of the outsourced provider in each area of specialty.
Sometimes Combining Separate Specialists Can Lead to Success
In some cases, all inclusive options either don't exist in a specific niche or location, or high quality companies that can perform at a high level in every specialty isn't an option. It is not uncommon to see some "all inclusive" fulfillment providers perform the fulfillment work, but offer less than stellar performance related to other areas such as printing, bottling, contract packaging or call center work. In these cases, you may have to combine the resources of multiple companies to find the best solution. This approach has many benefits. First, it diversifies risk. If ever you want or need to make a switch with either of the providers, you can do so without having to pull the entire outsourced set of services. Second, you can find true professionals in each service area needed, which should result in higher quality since the provider is a specialist in a particular niche.
You May Have to "Pitch In" Yourself
Of course, there are situations that require you to outsource some of the services while at the same time performing other services in house. Many companies choose this option when they absolutely cannot compromise in a certain service level, or when they simply can't find a satisfactory solution on an outsourced basis that is feasible for their business. While this option requires in house work, it also allows the company to maintain complete control over the process.
All in all, the options are plentiful – so be sure to check out each option. Most importantly, be sure to check the quality of each solution that you're considering by performing a thorough background check and screening process. By taking time to look at all of the options, you'll be better suited in the long run to make the best choice.
The Importance of Reverse Logistics
Reverse logistics is one of the most frequently overlooked elements of the complete business operations cycle, yet it presents enormous opportunity for companies skilled in it.
Reverse Logistics can be defined as a study on the movement of a returned product or batches of products to recapture value by swiftly deciding how to deal with the product so that is can re-enter the supply stream as soon as possible in a predetermined form.
As E-Commerce grows at an extremely rapid rate and more consumers are now shopping online, this growth is also resulting in the growth of online returns. A large number of online marketers are encouraging consumers to buy and return products by means of "free returns shipping" or "open returns policies". This is creating an even bigger challenge to Reverse Logistics teams who are seeking to extract value from those returns.
In a survey conducted by Harris Interactive it was found that 85% of customers will not shop with your company again if the returns process is not convenient, however 95% of customers will shop with you again if your returns process is convenient.
This is presenting a new and more challenging environment for Reverse Logistics professionals as well as opportunities for companies who recognize the competitive advantage that can be gained from effectively managing their returns.
It's extremely important to implement processes that streamline returns so that sales and repeat customers aren't lost forever. For companies that utilize in-house logistics, there are some very important factors to consider during the returns process:
Make the returns process as easy as possible. It used to be that companies made consumers jump through hoops in order to "earn" a return. But with the stakes being so high, it's extremely important to make the process painless. (Making returns easier can be accomplished by generating return labels, tracking the return shipment, and scheduling return shipments.)
Create an actual return policy. The easiest way to control the entire process is to create a concrete game plan regarding the returns process. Document this entire process both for your internal team as well as for customers.
Of course, some companies utilize outsourced fulfillment services. Many of these companies offer returns processing as well. However, don't just assume that all companies offer "professional returns processing" services. Companies that truly specialize in returns processing will be able to show a track record of success with these types of programs. For example, Links Warehousing and Fulfillment, is a Toronto, Canada based 3PL and is an experienced partner who understands the importance of reverse logistics and provides a streamlined service and customized solutions to generate maximum recovery for our clients. They can assist you by providing a centralized return centre; manage the flow of returned product, manage product recalls, and will inspect, test, repair, cannibalize parts for re-use as well as repackage products in preparation for resale. They will also take care of end of life recycling as well as regulatory-compliant disposal, and will also consolidate returns for shipment back to your facility in the US or directly to your vendor. As you can see, companies that specialize in returns handling provide very professional and sophisticated services.
How to Make Your Fulfillment "Green"
Now that saving the Earth has become increasingly more popular and absolutely necessary, making every area of your business green, including fulfillment, is easier than ever. Many businesses are implementing green initiatives, and even online fulfillment providers, such as Verde Fulfillment, are leading the way in this capacity. Whether you perform in-house fulfillment or using an outsourced provider, these tips will help you come up with ideas to implement earth-friendly practices in your business.
Packaging
Packaging is probably the easiest ways that you can make your fulfillment process more "green". Try:
Using popcorn for packing material. Popcorn is biodegradable, unlike packing peanuts. There are also packaging filler brands that will dissolve in water, reducing the amount of packaging that makes it to a landfill. These are another good alternative to regular packing peanuts.
Choosing boxes that are made from recycled paper or cardboard. Don't just stop there, though. Make sure that your boxes are made from a large amount of recycled product. 10% post consumer product might make you sound green, but it just isn't going to cut it from an earth-friendly standpoint.
Buying labels made from recycled materials, too. You can buy labels for your packages that are made from 100% recycled material.
Shipping
Changing your shipping can make a huge difference in your company's carbon footprint. Start by choosing a shipping company that uses biodiesel or natural gas instead of gasoline in their trucks. Also, look for a shipping company that practices eco-friendly initiatives, such as donating a percentage of profits to green charities.
Returns and Old Inventory
Many businesses around the country do a lot of great things for the planet, but then come up tragically short when it comes to product returns and inventory. Many businesses have the policy of destroying returned items or old inventory and using them as a write-off. Not only is this massively wasteful, it also contributes to making more landfills. Don't be like them. If you have inventory that you can't sell or that is slightly damaged donate it to one of your local charities or thrift stores such as Goodwill. You will still get a tax write-off, but you will be helping others and saving the Earth in the process.
Changing your fulfillment practices can have a positive impact on the environment, and making a change isn't that hard. You can even farm out the job to eco-contentious fulfillment warehouses if you don't have the time to do it yourself or can't spare the manpower. There's no excuse not to make a change for the better right away.
Don't Let Poor Shipping Habits Cost You Customers
By Will Schneider
In our fast paced world, waiting too long for a product or service is not a good thing. From waiting in line at the bank to complete a transaction to waiting on the phone for a customer service rep to respond to an inquiry, people have little patience. And the more people wait, the more their tempers flare and the less inclined they might be to purchase again. This is especially true with regard to online ordering of product. Because the internet moves at lightning speed, customers' expectations are high when it comes to the speed of delivery of goods purchased online.
Online Shipping Gone Awry
If timely shipping sounds unimportant, just talk to Dennis Bamber, President of Technologydrive.com, an ecommerce fulfillment services company that specializes in storing and shipping goods for online retailers. "Recently, I purchased a rubber drive belt for a vacuum cleaner on the internet from a top online retailer for vacuum accessories," said Dennis. "Great selection and great prices – but I was still waiting for the drive belt three weeks later! I'm guessing that they delayed in picking the order because it was only $6. But in doing so, they lost my future business."
And Dennis' sentiments are by no means the minority. The predominant theme is that customers expect online orders to be shipped quickly and error free. On top of that, online consumers are used to low cost shipping and free shipping, which places an additional squeeze on small business profits. It's a high level of expectation for small businesses to meet. So what can be done to make sure that you satisfy your customers' needs and operate at a level of profit that's sustainable?
Keep it Simple When It Comes to Shipping
Use the most effective means of shipping, even if it's a cheaper option. For example, if sending to a PO box, use the USPS instead of shipping via UPS and you could save your customer the hassle of potentially making an unwanted trip to their nearest UPS store.
Set clear expectations with customers. If you're going to ship lower priced items in batch less frequently, let your customers know so that they have that expectation. If you can ship orders same day, define that standard. But regardless of the standard, make sure that you're able to deliver on the standard consistently.
Communicate with your customers. Be sure to send your customer a quick email detailing the status of their shipment, and update them at critical points in the shipping process. This can be automated with most e-commerce programs.
Be careful not to set the bar too low. Sending orders less frequently may be a way to cut costs, but make sure you don't scrimp on timely deliveries. If your competitors are shipping within 24 hours of receipt of order, consider matching that service level to keep customers happy.
The most important thing to remember is that shipping can either be a competitive advantage or an Achilles Heel. By realizing that shipping is another area to "touch" your customers and provide them with a favorable experience, you'll be able to take advantage of this often overlooked opportunity and turn more of your customers into raving fans.